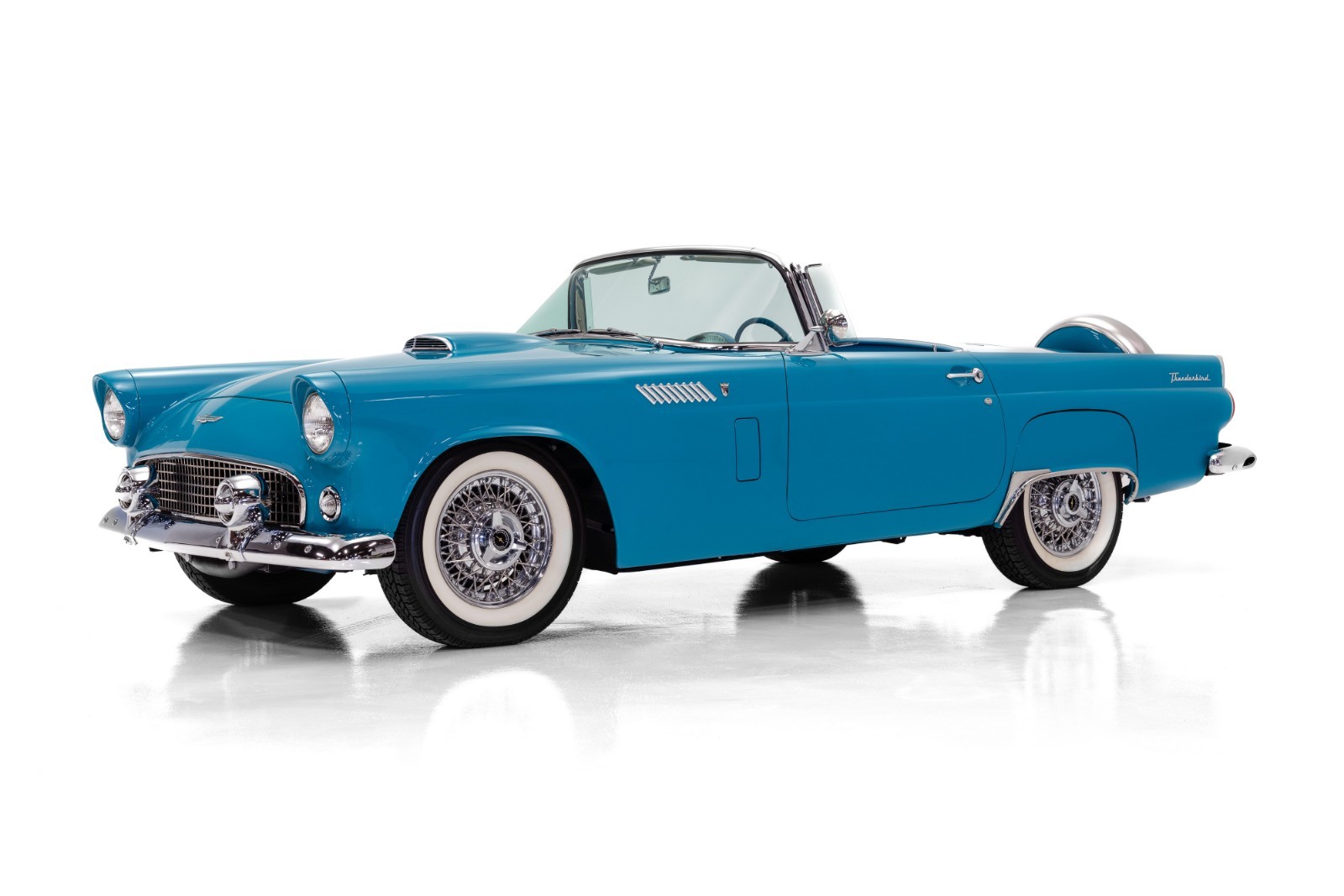 | | |
| --- | --- |
| Price: | $ 99,900 |
| Make: | Ford |
| Model: | Thunderbird |
| Condition: | Used |
| Mileage: | 1058 |
| Engine: | 312 |
| Location: | 63144, Saint Louis, Missouri |
| SellerID: | classic-car-studio |
| VIN#: | P6FH889004 |
Seller's Notes:
Phone: 314.567.4200 E-mail: info@classiccarstudio.com --> Web: www.classiccarstudio.com --> Description International Finance Warranties Shipping Terms Contact Description E-mail: info@classiccarstudio.com Phone: 314.567.4200 Finished in Turquoise, this 1956 Ford Thunderbird was a frame off restoration by acclaimed Thunderbird guru, Amos Minter. The Thunderbird has been driven very little since it was completed. The engine is a rebuilt 312 V8 4bbl that connects to Ford-O-Matic 3 speed transmission. The motor sits inside a highly detailed and very correct engine compartment and features the Minter "parade" cooling package, improved lower fan shroud and smaller water pump pulley. Easy startup has been achieved with Minter's started primer fuel pump which is secretly activated via a factory knob on the dash. The base/clear finish is a modern PPG refinish was completed overall new bodywork. The car is straight, has excellent gaps, and like all Minter cars, was a solid car to start with. All of the trim and chrome are either high-quality replacements or have been nicely restored. All of the glass has been replaced with new "tinted" glass and all of the rubber is new as well. The interior was completely restored and features all new soft parts, restored gauges, a smaller diameter steering wheel and the classic Town & Country Signal Seeking AM/FM radio. The convertible top is a white Nylon replacement and the top mechanism has been gone through as well. In addition to the smaller wheel, the seat has been repositioned as well to free up a little space in the notoriously tight interior compartment. Keeping things cool for the passengers is a modern AC set up! Options: Amos Minter car #224 Peacock "Turquoise" Blue Rebuilt 312 V8-4BBL Ford-O-Matic 3 speed transmission Ford Masterguide Power Steering Ford Swift Sure Power Brakes Town & Country-Signal Seeking AM/FM Radio New PPG Base Coat-Clear Coat All new tinted glass 5 best quality real Thunderbird wire wheels A/C Mintner "parade" cooling package New improved lower fan shroud Smaller water pump pulley Heavy duty battery/exchange Battery cut off switch 2 Turquoise seat belts installed Bright stainless steel tire band exchange/installed New white nylon replacement convertible top Reduced diameter interior matched steering wheel Primer fuel pump Seat reposition to allow for more leg room For the Thunderbird enthusiast looking for a proper car, you can't go wrong with a Minter. VIN: P6FH889004 Year: 1956 Make: Ford Model: Thunderbird Engine: 312 ci V8 Transmission: 3-Speed Automatic Color: Turquoise over Turquoise Odometer Reading: 1,058 Financing and warranty options are available.  Please call us directly to acquire shipping bids, to answer any questions about this automobile, or to secure this special car for yourself. Be sure to visit our eBay store or visit our web site to view our other inventory! We look forward to your phone call with any questions. 314.567.4200 info@classiccarstudio.com --> This special automobile is currently available for sale in our showroom and is also being advertised in other formats. Classic Car Studio reserves the right to end this auction at any time, and as a result, this automobile may not be available for the duration of the eBay listing. Prospective bidders are requested to review our "terms" available in our toolbar-as well as, to utilize any of the other features which we have collected there for buyer assistance. All images of the vehicle presented for sale are of the actual automobile being sold. Buyers are always encouraged to call us directly to answer questions or to assist with purchase arrangements at: 314-567-4200 Please see our other auctions in our ebaY Motors Store https://www.youtube.com/watch?v=k9KuraLWdGg 1956 Ford Thunderbird - YouTube [isdntekvideo] International Buyers International buyers should rest assured that Classic Car Studio has extensive experience with overseas transactions. Approximately 30% of our unique automobiles are purchased by discerning international clients. We invite international clients to utilize the tools we have assembled here to assist with your international purchase, and encourage interested buyers to call between 9:00am and 6:00pm US Central Time Monday thru Friday, and between 10:00am and 4:00pm on Saturdays with any questions or for assistance with purchase arrangements. Please feel free to call with any questions. Language Translation Currency Exchange International Dialing International Shipping Time Zones Financing Classic Car Studio has several financing solutions available to help you purchase that special automobile you have been seeking, or to help assure that a unique vehicle can be secured and enjoyed while other financial arrangements or transfers of funds are properly accomplished. Please call us to discuss these options further or to initiate financing for your new specialty automobile. Please feel free to call with any questions. 314.567.4200 info@classiccarstudio.com Warranties Classic Car Studio has several warranty options available for most vehicles, which may be purchased along with your new exotic, special interest, or collectible automobile in order to help to protect you from the unexpected maintenance costs often associated with vintage automobile ownership. Please call us to discuss the warranty products available for your new collectible or special interest automobile. Please feel free to call with any questions. Nation and Worldwide Shipping At Classic Car Studio we offer to set up shipping as a convenience to all of our customers. Shipping is always door-to-door provided that it is in the continental US, and is also fully insured. We welcome international customers, and specialize in shipping vehicles to anywhere in the world! We can arrange safe and expedient shipping of your new specialty automobile to the port of your choice. Please contact us for a quick shipping quote. Please feel free to call with any questions. Terms 1. Please be advised that by placing a bid you are entering into a legally binding contract and are committed to purchasing the vehicle described in this auction. The details of this commitment are further outlined in the eBay User Agreement. 2. Bidders with no feedback, negative feedback, or with bid retractions must contact Classic Car Studio staff directly in order to make purchase arrangements as all such bids may be subject to cancellation or rejection. 3. Classic Car Studio reserves the right to end its auctions early or to cancel bids solely at its discretion and shall not be held liable for any such cancellation or closure. 4. There is a $180.00 administration and documentation fee for each transaction. This charge covers filing and paper handling costs and, for transactions where no special circumstances have been established, is the only additional fee payable to Classic Car Studio associated with the transaction. 5. Winning bidders are required to contact Classic Car Studio within 24 hours of the auction's closing to secure the vehicle and to finalize the details of the transaction. 6. A $2,000 non-refundable deposit is required within 48 hours of auction's close to secure the vehicle and remove it from the market. Forms of acceptable payment for deposit are: credit card, wire transfer, cashiers check, and money order. 7. In the event that winning bidders are unable, either to contact Classic Car Studio, or to provide for deposit within established time frames, vehicles may be made available to other buyers on a first come, first serve basis. 8. Classic Car Studio has represented this vehicle to the best of its ability. Prospective bidders should nevertheless, feel free to contact us directly to provide information, respond to uncertainties, or answer any questions. 9. It is important to bear in mind that a vehicle is "New" only once and that all pre-owned vehicles, regardless of age, mileage, or manufacturer are subject to cosmetic wear and mechanical failure. These understandings are essential to the realistic expectations of automobile ownership, and more so as concerns the fine materials and delicate tolerances of specialty, luxury, or high-performance cars. It is for this reason that we encourage a personal inspection prior to delivery to help ensure your satisfaction. 10. All vehicles are sold "AS IS" and with no warranties expressed or implied. In some instances vehicles will be offered for sale without the full compliment of accessories such as: tools, floor mats, cd magazines, navigation disks, owners manuals, or extra keys. Where these items are of special concern, please be sure to contact us to obtain a vehicle's exact inventory of accessories. 11. Final or closing bid price does not include documentation fee, shipping, travel, nor tax, title, or registration. It is the purchaser's responsibility to provide for any federal, state, or local taxes, personal transportation costs, or shipping expenses resulting from the sale. 12. Classic Car Studio is glad to assist with shipping arrangements, but assumes no responsibility for damages or delays incurred once a vehicle is in a shipper's custody. 13. All issues, problems, or claims must be brought to Classic Car Studio within 24 hours of delivery or receipt of vehicle. 14. Provisions for personal or third party inspections and all due diligence are to take place prior to a vehicles shipment or delivery. 15. Classic Car Studio bares no liability and shall be held harmless for any complications, expenses, or damages resulting from a failure to meet these terms as they have been set forth and established herein. In an effort to offer the highest level of communication, to respond to any questions, or to explain our services and purchase procedures, we strongly encourage bidders or interested buyers to call us directly between 9:00am and 6:00pm US central time during the week, and between 10:00am and 4:00pm US central time on Saturday. Voicemail messages will be responded to as promptly as possible, or if left after hours, during the following business day. Bidders are requested to review our terms prior to placing bids. Classic Car Studio 1002 Hanley Industrial Ct. St. Louis, MO 63144 USA Classic Car Studio is a registered eBay user operating under the eBay name "Classic-Car-Studio." Classic Car Studio is a Missouri Dealer operating under Missouri License number D7670. Classic Car Studio is located at 1002 Hanley Industrial Ct., St. Louis, MO 63144. This template, its images, format, contents, design, and design elements are the exclusive property of Classic Car Studio and its members, and is subject to authorship and copyright protection under Federal Law of the United States. Reproduction of these contents, in part or whole, without the express written consent of Classic Car Studio or its members is unlawful and shall be subject to prosecution to the fullest extent permissible by law.


Related Cars & Trucks:
show more